Besides producing heat and light, the Sun also transmits some type of magnetic waves. After being shined by the Sun for more than 4 billion years, Earth has also become a gigantic magnetic field. Eventually, it can emit Earth magnetic waves.
Both of these magnetic waves are natural waves that exist in nature and everywhere around us. Not only it safeguards our health, it also prospers and flourishes all living things on Earth.
Without Earth's magnetic field, all things including water and air cannot remain on Earth surface. All living things will die. Therefore, magnetic field and magnetic wave are the main survival condition for mankind.

Magnetic Ultra Long Wave discovery

Scientists later found that the magnetic wave emitted by Earth has up to 6 million meters wavelength. This is one of the longest wave in the solar system. Therefore, it is called the ultra long waves.

Scientists and medical experts also found out that these natural ultra long waves can improve various health problems caused by energy disturbance of body cells. This may caused by:
electromagnetic radiation
air and water pollution
high-calorie diet
coloring and preservatives
pesticide misuse
work pressure

In 1932, Dr Suchiyama from Japan Tohoku Imperial University invented the Magnetic ultra long wave therapeutic device after more than 20 years of research. This device can emit magnetic waves similar to Earth's natural magnetic waves. These researches are further enhanced by Professor Ohuchi Wataru from Taiwan University.


Dr Suchiyama
Magnetic Ultra Long Wave therapy effectiveness is due to its:
Joules heat

Vibration waves

Magnetizing effect
Joules heat
Magnetic ultra long waves can penetrate body's muscles, bones and organs to reach in-depth body parts where the root of disease lies.
It also produces secondary circular current that results in inner Joules heat which can improve blood circulation, remove circulation blockage, reduce inflammation and pain, and relax muscles, nerves and blood vessels.
Therefore, it significantly improves headache, neuralgia (nerve pain), joint pain, menstrual pain, back pain and soreness, sciatica and other body pains.

Vibration wave
When magnetic ultra long wave penetrates body cells, it produces 3,000 micro vibrations in one minute. This vibration wave can vibrate blood cells (red blood cells, white blood cell, platelet and lymphoid cells) and effectively promote blood and lymph circulation.
Therefore, it can detoxify the body and enhance immune system. It also significantly prevents and improves circulatory system diseases such as hypertension, arteriosclerosis, stroke, cardiovascular and brain vascular diseases.

Magnetizing effect
Magnetic ultra long wave magnetizing effect transforms weak cells into strong cells. It enhances cell regeneration and activation, anti-free radical, anti-oxidation, anti-aging, cancer and improves various chronic diseases and cancer.

Human body blood vessel is up to 100,000 km in length, equivalent to two and a half laps around the Earth. The blood contains positively charged cation and negatively charged anion, which circulate from the heart to other body parts and back to the heart in only 23 seconds.
The rapid flow of positive and negative charge in the blood produces electric current. And electric current produces magnetic field.
Besides strengthening heart function, magnetic ultra long wave even enhances the magnetic field of positive and negative ions in blood. This ensures smooth blood circulation and improves various blood circulation problems such as numbness and pain.
Regulate hormonal system
Hormonal effects in human body are very amazing. Often using Magnetic ultra long wave ensures normal functions of body endocrine organs. Therefore, it significantly helps to improve diabetes and various endocrine disorders.

In short, Magnetic Ultra Long Wave therapy can:
Penetrate any cells and reach the root of disease for direct effect.
Produce a special inner heat to improve blood circulation, remove circulation blockage, relax nerve and muscle, reduce inflammation and relieve pain.
Vibrate blood cells, strengthen immune function of white blood cell, promote blood and lymph circulation, and prevent thrombosis.
Strengthen endocrine organ functions.
This therapy has significant anti-oxidation, anti-aging and anti-cancer functions. It has no stimulating or habitual effect and completely without any side effects.

Temporary reaction (improvement response)
When the Magnetic ultra long wave is improving blood circulation, removing circulation blockage, reducing inflammation and expelling body toxics, there may be some temporary reactions.
This shows the Magnetic ultra long wave is having effect to improve the symptoms. It is a good improvement response and you don't have to worry about it. Be sure to continue using it without interruption.


Why choose Longheh Magnetic Ultra Long Wave therapeutic device
1) 20 years long history in production experience, using natural magnetic waves and the principles of acupuncture for the most significant effect.
2) Awarded ISO-9002/1994 international quality management certification.
3) Awarded ISO-9001/2000 international quality management certification.
4) Awarded ISO-13488 quality certification for medical equipment.
5) Awarded European Union (France, Germany, Britain, Austria, Belgium, Denmark, Finland, Greece, Ireland, Italy, Luxembourg, Netherlands, Portugal, Spain, Sweden, etc 27 Member States) CE marking safety certification for medical device

6) US FDA (US Food and Drug Safety Authority) product approval and FDA official website listing.


FDA Listing
7) Singapore news program and Channel U interview, which was broadcasted in Singapore and Malaysia.
8) Thailand Ramathibodi hospital and Mahidol University Clinical Research confirmed that improvement rate on various body pains is more than 98 percent.

9) France Dr.Tran Ky, Pierre Laget, Jean Michel Guilbert, and more than 20 doctors and experts wrote a book on Magnetic Ultra Long Wave therapy, confirming its effectiveness.
10) French television interviewed Dr.Tran Ky and broadcasted it throughout France and Europe, causing warm responses.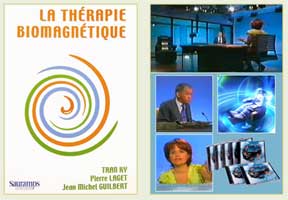 Dr Tran Ky book and interview
11) Good after-sales service and maintenance network. Quality guaranteed.

Longheh Magnetic Ultra Long Wave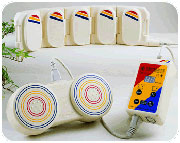 LH-2B Portable type
This device is easy to carry around. Apply on any body part that needs treatment.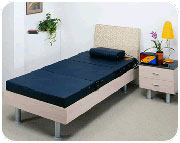 LH-6 Bed type
This bed type can be placed on normal bed or floor for usage.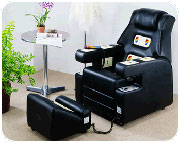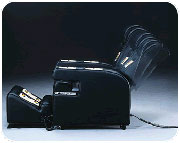 LH-8A Chair type
The chair type gives the best therapeutic effect. You can sit on it comfortably while watching TV or reading newspaper. The back can also be reclined at angle suitable for you.
Inquiry
For any inquiry, please email me at

©2011 Longheh.com. All Rights Reserved.