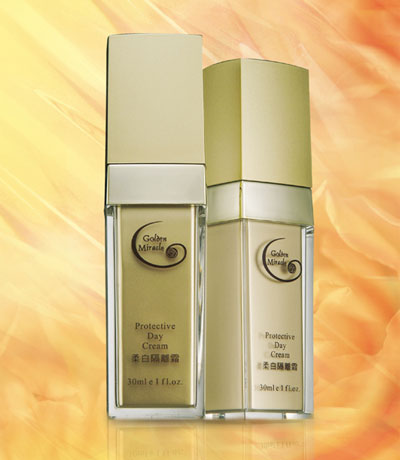 Do you know ultra violet (UV) radiation is the main factor that darkens your skin and causes skin spots? It also causes early aging of your skin and formation of wrinkles.
UVA and UVB are two types of sun's UV radiation that may:
cause sunburn
stimulate release of tyrosinase to form melanin (dark pigment) and spots
damage collagen and elastin in the dermis, causing early skin aging and wrinkles
Therefore, to have a healthy and white skin, you must thoroughly protect your skin from UV damage.
'Protective Day Cream' contains UVA and UVB block and UV absorbent which can:
change UV wavelength to prevent skin damage
protect your delicate skin against make-up, air pollution and UV exposure
restrain melanin formation
The added Vitamin E further protects your skin from harmful free radicals. Hyaluronic Acid and Licorice extract may moisturize, whiten, and soothe your skin. Apply this Cream before make-up as a foundation to make your skin looks smoother.
Ingredients
Water, Cetyl alcohol, Glyceryl monostearate, TiO2, ZnO, Hyaluronic acid, Licorice extract, Vitamin E, Propylene glycol, Methylparaben, Rose essential oil, Orange essential oil and Phytoncide essential oil.
Directions
Apply on your face and neck before make-up or going out during the day.
Volume
30ml
UV Protection index
SPF 25
PA +++
Inquiry
For any inquiry, please email me at

©2011 Longheh.com. All Rights Reserved.