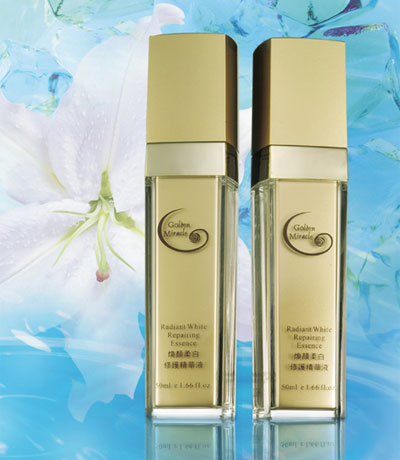 Without proper moisturizing, your skin cannot exhibit a fair complexion. With dehydrated skin, no whitening ingredient can penetrate it.
Therefore, 'Radiant White Repairing Essence' contains Hyaluronic acid, which may:
absorb 1000 times skin moisture
form a ventilative moisturizing shield on your skin
restore skin smoothness and elasticity
rapidly improve skin roughness
As the main whitening ingredient, this Essence contains Keratolin, which may penetrate deep into your skin to:
lighten skin spots
accelerate decomposition of dead cells and melanin
let you have a beautiful and fair skin complexion
The unique Matrixyl may increase production of collagen and elastin of fibroblasts. These reduce your wrinkles and make your skin fine and radiant.
GpG revitalizing agent can:
activate and revive skin cells
repair and reduce wrinkles
rapidly reduce skin spots
Plant extracts may restrain the activity of tyrosinase, an enzyme that speeds up melanin (black pigment) formation. This reduces melanin formation and lighten skin spots.
L-Ascorbic acid can also reduce melanin and whiten your skin. With antioxidant effect, it removes free radicals caused by UVA exposure. Therefore, it effectively prevents skin aging, wrinkles and skin spots.
Ingredients
Water, Carbomer, Keratolin, M-clear, Etioline, GpG revitalizing agent, Biomin soy whitening, Matrixyl, Hyaluronic acid, NaPCA, Witch-hazel, Propylene glycol, Methylparaben, Magnesium Ascorbyl Phosphate, Rose essential oil, Orange essential oil and Phytoncide essential oil.
Directions
After using Revitalizer, take 2 to 3 drops of this Essence on your palms and apply to your face. Gently massage it to improve absorption.
Volume
50ml
Inquiry
For any inquiry, please email me at

©2011 Longheh.com. All Rights Reserved.