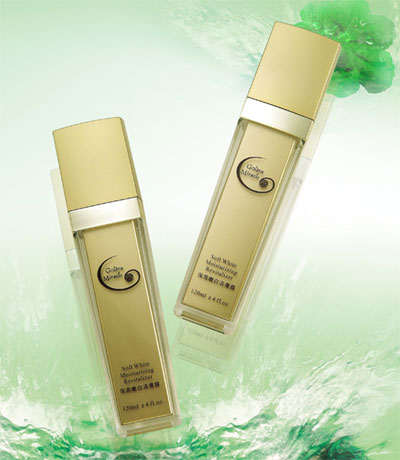 Now you can effectively clean, soften and moisturize your skin with 'Soft White Moisturizing Revitalizer'. It contains Keratolin to:
gently remove dead cells and melanin
soften and whiten your skin
accelerate cell regeneration without skin redness side effect from fruit acids and vitamin A.
Biomin soy whitening may balance sebaceous gland secretion of oily and dry skin. It also maintains your skin at optimum condition.
Wych-hazel, Hyaluronic Acid, NaPCA and Aloe Vera extracts can:
enhance skin moisture
restore skin smoothness and elasticity
make your skin more radiant
Ingredients
Water, Keratolin, Biomin soy whitening, Chamomile, Aloe vera extract, Witch-hazel, Hyaluronic Acid, NaPCA, GpG revitalizing agent, Propylene glycol, Methylparaben, Rose essential oil, Orange essential oil and Phytoncide essential oil.
Directions
Use the Revitalizer after you clean your face. Take a small amount on cotton or palms. Pat lightly onto your face and neck. Then, gently massage it to help absorption.
Volume
120ml
Inquiry
For any inquiry, please email me at

©2011 Longheh.com. All Rights Reserved.