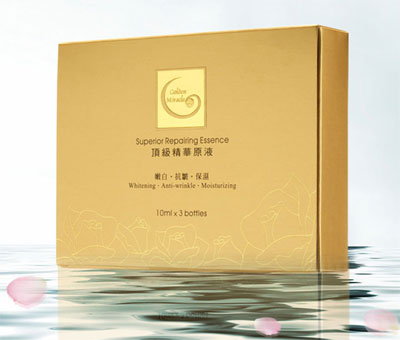 'Golden Miracle Superior Repairing Essence' uses the latest nano biotechnology from France, produced under strict requirement for the highest standard.
Containing various precious nutrients, it has a perfect formula beyond traditional standard. It deeply moisturizes and rejuvenates your skin for a new vitality. Now, your skin can shine with beautiful radiance from within...

Bottle 1 - Whitening pure essence
Glycol Acid: These small molecules are easily absorbed into your skin, helping to restore old keratin.
Alpha-Arbutin: Restrain tyrosinase activity and reduce pigmentation for significant whitening effects.
Tyrosinase is an enzyme that speeds up melanin (black pigment) formation. Alpha-Arbutin produces remarkable restraint effect on Tyrosinase on human cells. To get the same effect, 9 times of Beta-Arbutin is needed.


Left: Human melanocytes - without any treatment (control)
Right: Human melanocytes - with Alpha-Arbutin after 14 days

Bottle 2 - Anti-wrinkle pure essence
Palmitoyl Pentapeptide-3: Promotes Collagen and Elastin formation, increases skin firmness and elasticity to avoid wrinkle lines.
Deep-sea Marine Collagen: With excellent skin hydration effect, it can prevent skin aging and wrinkle formation.
Ceramide: With deep moisturizing effect, it controls skin moisture loss or evaporation and restore skin elasticity.
Acetyl Hexapeptide-3: Regulates excessive acetylcholine secretion from your face, slows down muscle contraction, controls wrinkle lines and improves dynamic wrinkle.
Human skin structure under microscope imaging
A one-month experiment showed Acetyl Hexapeptide-3 helps to reduce wrinkle depth by up to 27%.


The first day The 15th day The 30th day

Bottle 3 - Moisturizing pure essence
Hyaluronic Acid: Can absorb high moisture and form a permeable moisture film to prevent skin moisture loss. It effectively restores skin smoothness and elasticity, and improves skin roughness.
Saccharide Isomerate: With long term moisturizing effect, it effectively regulates skin moisture and improves moisture retention.
PCA-Na: Gives the skin a comfortable moisturized effect, and increases skin softness and elasticity.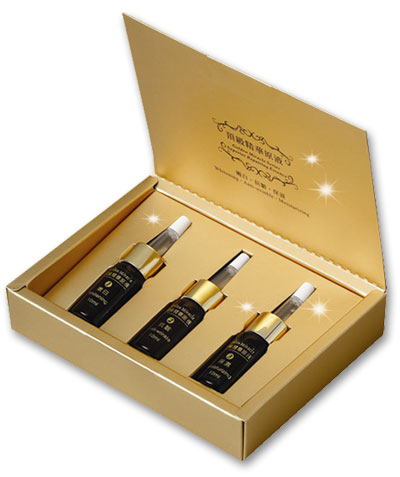 Directions
Use according to number sequence starting with Bottle No. 1, followed by No. 2 and No. 3. Gently apply an appropriate amount to the face. Wait for a while to let it absorb into your skin. You can also use these three bottles separately.
Content
10 ml × 3 bottles
Inquiry
For any inquiry, please email me at

©2011 Longheh.com. All Rights Reserved.